Summit & Banner Mill
Golconda acquired the Summit Mine and Banner Mill in May 2021. Summit is situated in the Steeple Rock Mining District, within Grant County, New Mexico, U.S.A. Which is 2 hours east of Tucson, Arizona via state and sealed highways and well-maintained access roads. The Summit property has approximately 4,000 acres of patented and unpatented mining claims and mining leases. The 240 ton/day Banner flotation mill is located 57 miles from the Summit Mine.
HISTORY
Mining activity at the Summit mine dates back to the late 1800's. The last active operator mined 180,315 tons (0.083 oz/ton Au and 4.44 oz/ton Ag) from 2008 to November 2013. At the Banner Mill they processed 110,926 tons to produce 698 tons of concentrate at 9.9 oz/ton Au and 498 oz/ton Ag and 70,000 tons was crushed, sized and sold as a precious-metal-bearing silica-flux to smelters owned by Asarco and Freeport-McMoRan. The site has been on care and maintenance since November 2013 but has maintained all the necessary permits to re-start operations.
SUMMIT MINE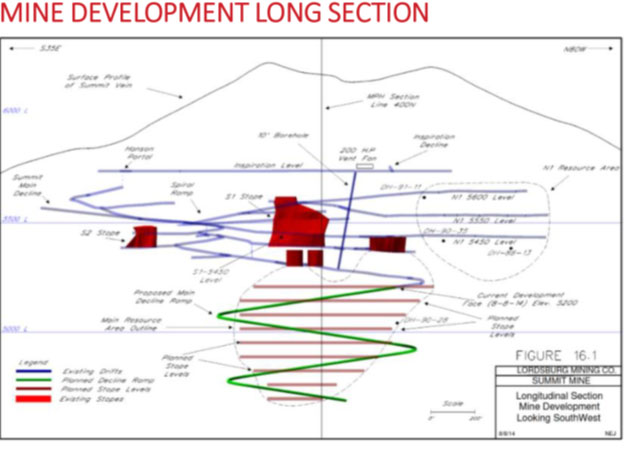 There is an existing 12 ft x 13 ft decline with 15,000 ft of workings from the previous mining operations.
The ore body has the following characteristics: -
Epithermal, low-sulphidation system;
Gold-silver mineralization associated with quartz-carbonate veins and breccias;
50 to 100-foot-wide Summit fault zone strikes northwest and dips 70% to 80% to the northeast; and
Deposit extends over a 2,000 ft strike, 10 to 15 feet average widths and depth of 1,000 ft
BANNER MILL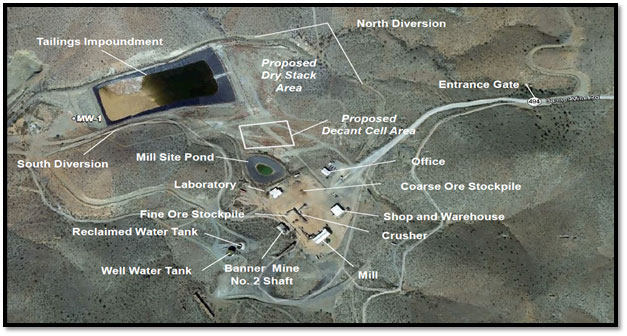 The fully permitted Banner mill and flotation plant is located 57 miles from the Summit Mine. It consists of: -
240 ton/day crush, mill and flotation plant
Assay lab, mine offices and shop/warehouse located next to the mill
Permitted tailings dam
INVESTMENT HIGHLIGHTS
Near-term restart of a high-grade precious metals mine in a premier mining jurisdiction

Located in a low-risk mining jurisdiction, New Mexico, with a long history of support for gold, silver and copper mining projects
NI 43-101 compliant resource estimate containing ~6.5M oz Ag and 99K oz Au (789k tonnes at 573 g/t AgEq OR 789k tonnes at 7.10 g/t AuEq)
Extensive infrastructure already in place -decline, 15,000 ft of underground workings and the 240 ton/day permitted Banner Mill
All key permits are in place for a restart

Low-cost precious metals mine with excellent project economics

At a price forecast of US$25/oz of silver and US$1,700/oz of gold

Annual production of

1.45M oz AgEq at a LOM average AISC of US$11.94/oz AgEq over a 7-year mine life; or
21.4K oz AuEq at a LOM average AISC of US$733/oz AuEq over a 7-year mine life.

The mine generates US$16.4M in average annual free cash flow and an after-tax NPV5%of US$96.6M
Low re-start capex estimate of only US$4.1M

Upside through optimization and exploration

Known veins above 5,800 ft elevation and below 4,800 ft have been excluded from the mine plan
Excellent potential for discovery of parallel vein structures
Optimization opportunities identified to materially reduce forecast operating costs
No material exploratory drill programs on the property since 1992