Galaxy
Golconda Gold acquired Galaxy Gold in November 2015. Galaxy gold is situated 8 km west of the town of Barberton and 45 km west of the provincial capital of Nelspruit in the Mpumalanga Province of South Africa. The property covers 58.6 km2 is part of the prolific Barberton Greenstone Belt.
Galaxy History
Galaxy Gold is one of the oldest mining operations in South Africa with the discovery of gold by Jack Greaves in 1888.

Click to enlarge
Galaxy Potential Ore Sources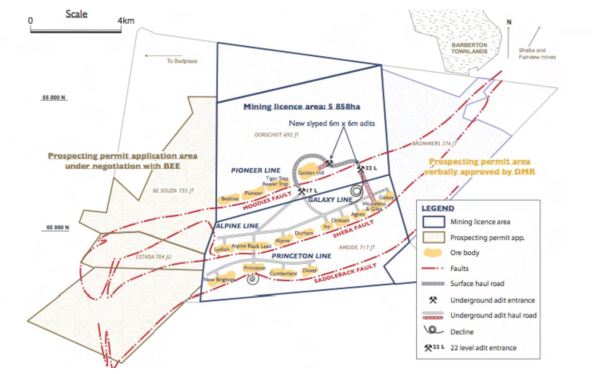 Galaxy consists of 21 ore bodies all of which can be accessed via adits at level 17 and level 22. Examples of the ore bodies are:
Galaxy ore body – a massive pipe shaped ore body with a thickness of 35m and a strike of around 100m.
Woodbine and Giles ore bodies – both narrow steeply dipping with a thickness of up to 2.4m and a strike of 900m.
Princeton ore body – a steeply dipping ore body with a thickness of 5m and a strike of 300m.
The current mine plan includes the mining of Galaxy, Princeton and Woodbine/Giles using a mechanised cut and fill mining method. There are also extensive tailings around the mine site which Galaxy will use to supplement production.
Galaxy Resources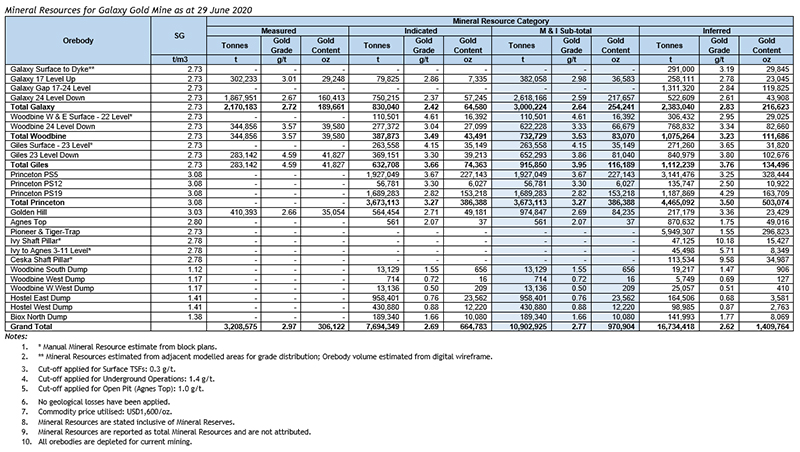 Click to enlarge
Galaxy Processing Plant
Golconda has refurbished the existing 15,000 tonne per month crush, mill and float plant. It has upgraded the crushing circuit, float plant and filtration plant to 30,000 tpm. A new milling section with a capacity of 50,000 tpm is expected to be completed in 2020
Golconda has completed a new Technical Report and Preliminary Economic Assessment which supports doubling the size of the plant to match the potential production it could achieve from its underground operations.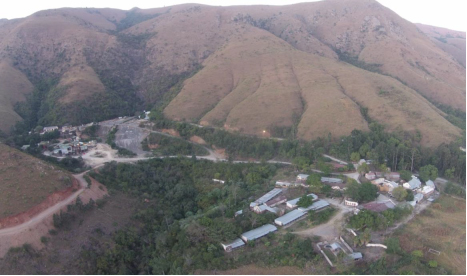 Galaxy Exploration
Golconda has a drill ready plan to expand the resource to over 4 million ounces. Work will commence as required to support any future expansion of Galaxy.
Golconda also increased the resource in 2020 by 60% through a review of historic drilling and grade control records with work done on just 3 of the ore bodies. It intends to continue this work to encompass the other 18 identified ore bodies.